"Sinful" Cindy
Founder/CEO
At the end of a long night in heels, I always thought how am I going to survive it?? I needed a gorgeous tote to discreetly carry my flip flops in & save my feet. Because I couldn't find anything that was lightweight and pretty enough, I decided to make my own beautiful bag to carry my heels home in! Who wants to carry a shopping bag? Not the fashion statement I want to make.
The Flip Flop BitchTM bag is a lightweight chic tote that folds up into a matching pouch. This tote can be used when you wear heels and want to bring flats with you, or just to carry any of your essentials fashionably!  The matching pouch can also be used as a wristlet to carry small items, like your phone & lipstick. Our totes come in a variety of colors & patterns and are handmade in the USA!  Based in Westchester, NY
Why do we call it The Flip Flop Bitch?
One night I was out in the city with girlfriends and after being in heels all night my feet were killing me. As we were walking down the street I decided to pull my flip flops out of my tote and switched shoes. My friends were already barefoot & complaining, walking the dirty streets of Manhattan. How disgusting is that?? They were so jealous… They called me "The Flip Flop Bitch"! It was at that point that I realized there was a need for all women to save their feet & look good doing it.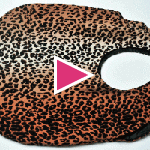 How the tote folds up into pouch:
Fold it in half vertically, then once more. Roll it up tight and put it in the pouch! Click the image to see an animated visual.
About the Girl in our Logo
I've been sketching this beautiful girl my whole life.  When I was a teen, I was drawing her winking face & sometimes I'd draw her in fashionable clothes & accessories.. little did I know that so many years later she would become the logo of my business!  After all this time I feel that she & I have become one <3